04/02/2014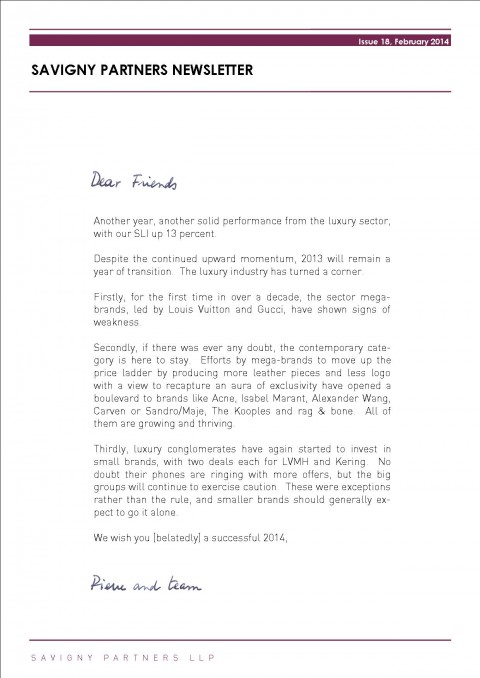 Opening to Cosmetics
We revisited our SLI to decide whether or not to include some cosmetics companies, a sector which we had largely ignored in previous years on the grounds that the category was essentially sold wholesale and was prone to discounting.  We looked at a number of beauty groups but only three really stood out in terms of size and focus: L'Oréal, Coty and Estée Lauder.
L'Oréal did not make the cut, even though, with over €22 billion in sales, it is one off the biggest cosmetics groups in the world.  By its own admission only 26 percent of its sales are luxury and we felt that its stock fundamentals are closer to that of mass consumer brands.
Coty, despite being one of the leading participants in the fragrance market, also did not qualify.  Too many of its brands would not qualify as luxury, and most of them are under license.  Again we feel that it is essentially a mass consumer play, albeit focused on the beauty category.
Estée Lauder Companies, on the other hand, made it, and we are proud to welcome it in our SLI.  The group is a key player in all three pillars of the cosmetics industry: skincare, fragrance and colour cosmetics.  Its brand portfolio, which includes Estée Lauder, Clinique, Origins, MAC, Bobbi Brown, Aveda and Jo Malone, is weighed more towards luxury, and accordingly its brands tend to be distributed in selective wholesale channels.  Some of its brands also benefit from their own retail.  Moreover, Lauder management has made a conscious effort over recent years to wean itself off the American tradition of promotion and gift-with-purchase, which in our mind was incompatible with the luxury sector.
Estée Lauder snapshot
With €7.5 billion in turnover, Estée Lauder Companies is the leading luxury cosmetics group.  Dominant in the US (42 percent of sales), it has nevertheless developed a strong presence in Europe (37 percent of sales) and Asia (21 percent of sales).  The company's biggest segment is skincare, contributing 44 percent of sales, with colour cosmetics (38 percent of sales) and fragrances (13 percent of sales) next.

Estée Lauder's share price vs. SLI and MSCI
Since the beginning of 2011 Estée Lauder's share price has broadly tracked the SLI.  However it has largely escaped the recent softening caused by worries about mega-brands and China, and finished the year 26 percent higher (in local currency).  Asia seems a bright market opportunity for prestige skincare brands, with women continuing to trade up.
The group is currently valued at a sales multiple of 2.8x and an EBITDA multiple of 15.5x, a premium of 13 percent over the SLI EBITDA multiple of 13.7x.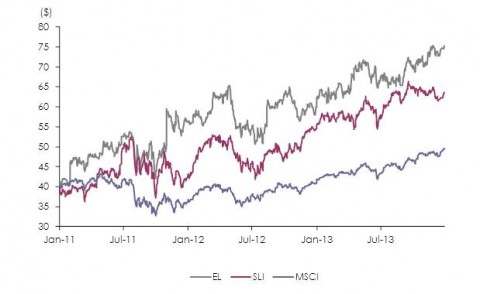 Note: indices rebased to EL stock price
Sector Review
In 2013, the Savigny Luxury Index ('SLI') gained 13 percent, coming just short of the MSCI World Index ('MSCI') which gained almost 16 percent.  The SLI's performance is in sharp contrast with last year when it had increased by 24 percent and outperformed the MSCI by 12 percentage points.
Savigny Luxury Index performance Jan 2013 to date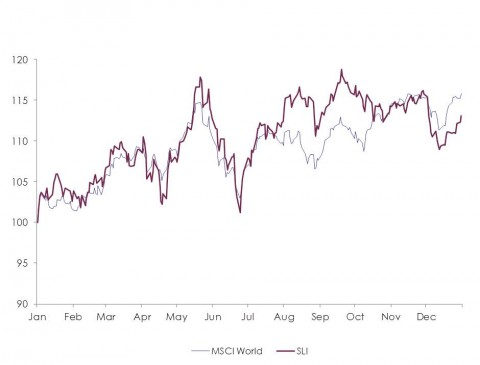 Both indices closely matched one another until mid-summer, and together fell victim to a yo-yo effect driven mainly by expectations of the Fed's stimulus package and resulting prospects for the US economy on one hand, and by policy announcements and economic data from China on the other.
Despite increasingly loud rumblings of a Chinese slowdown and decelerating mega-brands, the SLI made a brief comeback over the summer as accelerated tourist spending and improved demand in Japan helped luxury sales for the first half of the year.  The market also welcomed LVMH's €2 billion takeover of Loro Piana in July.  This brings yet another large and iconic brand into the portfolio of the world's leading luxury group, but it also provides LVMH with access to a strategic platform and know-how in precious fabrics and their supply chain.
In October, LVMH's lower than expected third quarter results, driven by a sharp slowdown in Louis Vuitton's growth, cast a shadow over the sector, confirming that appetite for mega-brands was indeed cooling down.  Kering then also announced that growth demand for its flagship Gucci brand was waning.  These announcements, coupled with profit taking in December, caused the SLI to tumble by over 3 percent over the quarter, ending the year below the MSCI.
2014 will be a key year for the sector.  We do not anticipate any aggressive expansion plans for most of the industry but rather a focus on improving existing operations.  Bucking the trend will be, at the opposite end of the sector's price ladder, ultra-luxe players such as Bottega Veneta or Berluti and affordable luxury/contemporary brands, both of which will seek continued expansion.
Sector Valuation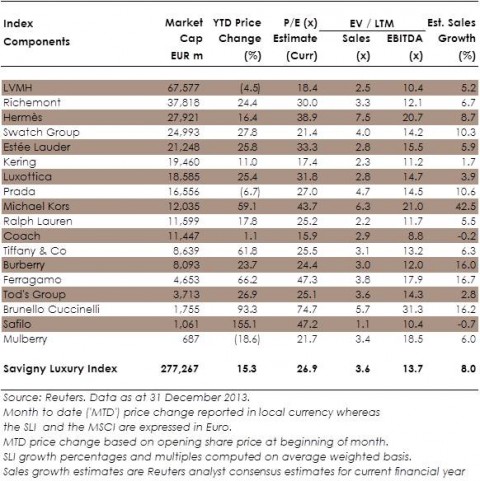 M&A activity in the sector
 Companies that have changed ownership or received investment in 2013:
US private equity firm Irving Place took a minority stake in American contemporary label rag & bone in January
Mitsui, the listed Japanese conglomerate, acquired US-based apparel retailer Paul Stuart in January
TA Associates, the US-based private equity firm, acquired fashion brands JOIE, Equipment and Current/Elliott in January
Harry Winston was sold to the Swatch Group in January
French clothes manufacturer and retailer Veropam acquired French leather goods brand Lamarthe in January
Movado, the listed US watch retailer, acquired a 39 percent stake in UK-based watch distributor MGS Distribution in February
A 60 percent stake in Italian leather goods brand Valextra was sold to private equity firm Neo Capital in March
Clessidra, the Italian private equity firm, acquired a 70 percent stake in Buccellati in March
American jewellery brand Chamilia was sold to Swarovski in April
Garment manufacturer SINV acquired Italian fashion house Piazza Sempione in April
The management of SMCP (Sandro, Maje, Claudie Pierlot) acquired the company, backed by KKR, in April
Hengdeli Holdings, the Hong Kong-based watch company, took a 30 percent stake in Harvest Max Holdings, a watch and jewellery retailer based in the Virgin Islands in April
Corum was sold to China Haidian Holdings, the Hong Kong-listed watch company in April
Kering acquired Italian jewellery brand Pomellato in April
Private equity firm TowerBrook Partners acquired premium denim brand True Religion in May
The founder of Italian fashion brand Alberto Aspesi bought back 50 percent of his eponymous label in May
French private equity firms AXA, Orkos and 123 Ventures acquired UK-based menswear online retailer oki-ni in May
Private equity firm Calao and The Luxury Fund, the UAE-based investment fund, acquired the French fashion brand Inès de la Fressange in May
SMS Finance acquired La Perla in June
LVMH acquired Loro Piana, the Italian cashmere and high-end wool fabrics manufacturer, in July
Italy-based private equity firm Sator acquired Boccaccini, the Italian fashion group, in July
German porcelain and glassware manufacturer Arzberg-Porzellan was sold to Sambonet, the Italy-based tableware manufacturer, in August
 Swiss investment group Norinvest acquired the remaining 60% stake in Louis Golay, the Swiss jewellery brand, in August
Pandora, the listed Danish jewellery company, acquired City Time do Brasil, the Brazilian jewellery retailer, in August
Neiman Marcus was acquired backed by US private equity firm Ares Management and Canada Pension Plan, in September
Listed Italian apparel company Raffaele Caruso was sold to Fosun International, the Chinese conglomerate in September
US private equity firms Oaktree Capital and Centerbridge Partners acquired Australian lifestyle brand Billabong in September
LVMH acquired London luxury footwear brand Nicholas Kirkwood in September
LVMH bought a minority stake in British designer JW Anderson in September
Italian private equity firms EMCap and GenCap bought Italian footwear brand Alberto Moretti in December
Denim brand Lucky Jeans was sold to US private equity firm Leonard Green & Partners in December
Luxury down jacket brand Canada Goose was sold to Bain Capital in December
Jones Apparel Group was sold to US private equity firm Sycamore Partners in December
Vicini, whose main brand is Giuseppe Zanotti, has agreed to sell a 30 percent stake to L Capital, the LVMH-sponsored private equity fund in December
Important Notice
This newsletter is distributed from time to time to clients and contacts of Savigny Partners LLP ("Savigny") who are interested and professionally experienced in the luxury goods sector.  The views and opinions
expressed in this newsletter pertain to themes that are topical to the luxury goods sector as at the date of this newsletter, and are meant to stimulate open discussion between Savigny and its clients and contacts.  The information in this newsletter has been compiled from sources believed to be reliable but neither
Savigny, nor any of its partners, officers or employees makes any representations as to its completeness or accuracy.  This newsletter is not intended to help its addressees or readers make investment decisions, nor does it purport to make recommendations regarding potential investment decisions.  Savigny shall not be liable or responsible for any loss or damage caused by or arising from any reader's reliance on
information contained in this newsletter.  Please note that some or all of the brands, and the companies which own brands, mentioned in this newsletter may have been and may continue to be clients of Savigny or may have a professional relationship with Savigny