13/02/2013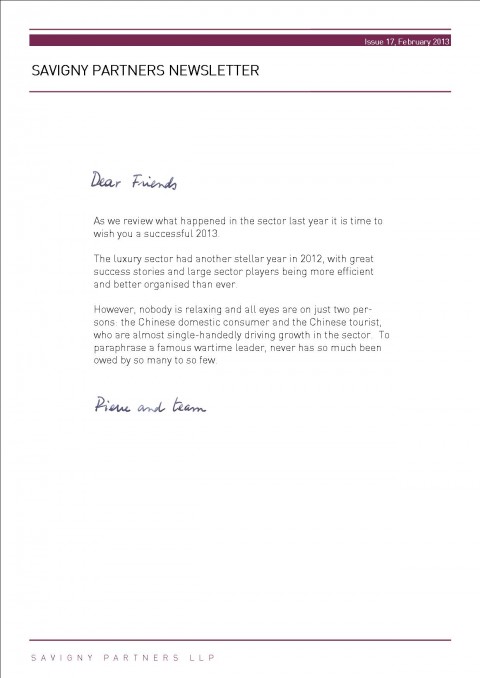 Sector Review
Wrestlemania
2012 was the arena of a fierce wrestling match between largely positive corporate results and hesitant economic news.  A nail-biting five rounds were fought over which no clear winner was declared until the last round:  the SLI won three rounds to two, rising 24 percent over the year, outperforming the MSCI by almost 12 percentage points.
Savigny Luxury Index performance Jan 2012 to date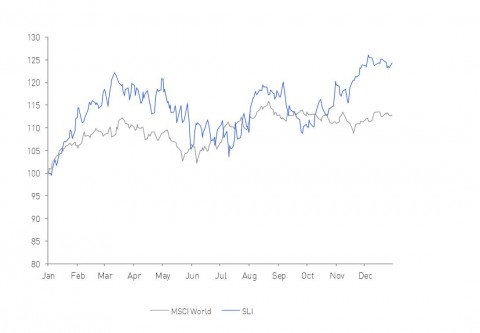 Round 1 – 2011 packs a punch
A flurry of record-breaking 2011 results announcements caused the SLI to shoot up 22 percent in the first quarter.  Investors were momentarily jubilant and oblivious to the growing threat of economic stagnation in key markets.
Round 2 – China and Europe take the SLI to the mat
Strong first quarter results announcements by the likes of LVMH and Richemont as well as Brunello Cuccinelli's highly successful IPO were not sufficient fodder against the onslaught of glum news about China's growth and fears of a financial meltdown in Europe.  A knockout blow was dealt in early June when China announced a slowdown in its factory output on the same day that Graff pulled its much-anticipated IPO.  Outnumbered, the SLI was sent back to the corner with a bleeding nose, having lost 84 percent of its gains from round 1.
Round 3 – SLI receives backup
Retail sales in Europe shot up in the normally quiet month of August, as principally Asian tourists were drawn to Europe by a weaker Euro.  Boosted by this good news, the SLI rose 16 percent but the euphoria was to be short-lived.
Round 4 – SLI gets tangled in the ropes
Burberry's profit warning in September left the SLI hung on the ropes with many investors thinking the game was over.  The Chinese government's announcement of a crackdown on corruption was a further blow resulting in the SLI losing 10 percent in less than a month.
Round 5 – SLI wins on points
Investor confidence slowly returned in the last quarter driven by another string of strong results announcements and the prospects of continued sector growth.  The SLI rose an impressive 12 percent, leaving the general market index flat on the canvas.
More rounds in 2013?
The high degree of uncertainty that plighted the course of the SLI over the last year and a half may show signs of abating but luxury goods players will still have to battle with the shifting sands of the global economy.  China has reassured and large luxury groups are flourishing, but are all luxury eggs in the same Chinese basket?
Sector Valuation
The SLI team – a mixed bunch of champions, lame ducks and smackdowns
Winners of the team category were high-end Italian leather goods companies, who all benefitted from the surge in Asian tourists drawn in by the "Made in Italy" appeal.  Prada came top of the leaderboard, its share price more than doubling over the year.  Ferragamo was up by over 73 percent, whilst Tod's valuation increased by almost 50 percent.
Michael Kors earned itself a champions' belt in 2012 – its market value has more than doubled over the year, riding on the success of a strong focus on accessories, a multi-channel strategy and retail expansion.
Watch groups recovered from the double clap dealt to them by China – slowing economic growth plus crackdown on corruption, which particularly affected the sales of watches in September/October – and ended up with solid gains of 38 and 52 percent for Swatch and Richemont respectively.
This year's lame ducks were groups sharing a focus on the lower price bracket of the luxury ladder, such as Coach, Tiffany and Burberry, all of whom ended the year pretty much where they started off in terms of price performance.
Two companies received a vicious smackdown: Mulberry lost almost 15 percent over the year, largely due to a profit warning in October whilst troubled Ports continued its descent, losing almost 40 percent of its value this year.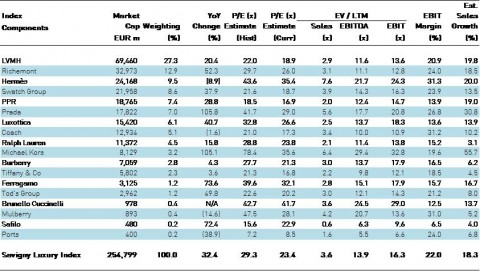 Putting it in the context
The graph below plots the average valuation for the SLI (expressed as a multiple of EBITDA) against sales growth expectations (consensus estimates).
We have included monthly data points for 2011 and 2012, and two data points for each year before that, going back to 2007.  The line on the graph shows the trend line i.e. the regression line including all data points.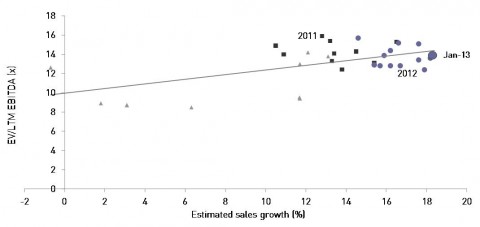 What can we see? On balance, it appears that most 2011 data points (black squares) are above the trend line.  For 2012 (blue dots), the reverse is true.  This means that on average, for the same growth expectations, our SLI constituents obtained a higher valuation in 2011 than in 2012.
Is that a reflection of perhaps a greater degree of risk, given the overwhelming importance of one market – China – for the sector?
M&A activity in the sector
Shandong Heavy Industry, the state-owned China-based company, Royal Bank of Scotland and Strategic Value Partners acquired the Italian yacht manufacturer Ferretti in January
Kelso Place, the UK-based private equity firm, acquired the British fashion brand Nicole Fahri in January
The management of Alexis Bittar, the American jewellery brand, acquired the company backed by TSG Consumer Partners, the US-based private equity firm in January
Private investors Eva and Oliver Ebstein acquired Chronoswiss Uhren, the Germany-based watch maker in February
Fung Brands, the Hong Kong-based investment vehicle owned by the Fung family and the Government of Singapore, acquired French fashion house Sonia Rykiel in February
LVMH acquired Léman Cadrans, the Swiss manufacturer of luxury watch dials, in March
Lion Capital, the UK based private equity firm, acquired John Varvatos, the American menswear brand in March
Khuan Choo International, the Hong Kong-based investment company, acquired Crabtree & Evelyn, the US-based manufacturer and retailer of personal care products in March
A consortium led by Fawaz Gruosi acquired de Grisogono, the Switzerland-based jewellery brand in March
Trinity, the Hong Kong-based retailer of menswear, acquired the British menswear brand Gieves & Hawkes in April
TA Associates, the US-based private equity firm, acquired a 30 percent stake in French fashion brand Zadig & Voltaire in April
Hermès acquired Nateber, the Swiss manufacturer of luxury watch dials, in April
LVMH acquired Tanneries Roux, a France-based leather goods tannery in May
US hedge fund Perry Capital and private equity firm Yucaipa Companies acquired US-based specialty retailer Barneys New York in May
YGM Trading, the listed Hong Kong-based apparel retailer acquired British fashion brand Aquascutum in May
Crescent HydePark, the Singapore-based investment firm, acquired Sixty Group, the Italy-based fashion group in May
Go To Enterprise, an investment vehicle headed by Goga Ashkenazi, acquired French fashion house   Vionnet in May
Litorina Kapital, the Sweden-based private equity firm, acquired Swedish menswear brand Eton in May
LVMH acquired Société Nouvelle de Chemiserie Arnys, the French menswear retailer, in June
Mayhoola, an investment vehicle backed by the Qatari royal family, acquired Valentino in July
Teachers Private Capital, the private equity investment arm of Ontario Teachers' Pension Plan acquired Norway-based high-performance outdoor clothing Helly Hansen in July
Samsonite acquired American luggage and leather goods manufacturer Hartmann in August
Mayhoola invested in UK-based leathergoods brand Anya Hindmarch in August
Bridgepoint, the UK-based private equity firm, acquired the Italian perfume retailer Limoni in August
G-III Apparel Group, the listed US-based outerwear and sportswear manufacturer, acquired Vilebrequin, the swimwear brand and retailer in August
LVMH acquired shoemaker Anthony Delos in September
Richemont acquired Swiss watch component manufacturers Varin-Etampage and Varinor in October
Private equity firm Neo Capital acquired British fragrance brand Miller Harris in October
PAI Partners, the France-based private equity firm, acquired the Italian eyewear manufacturer Marcolin in October
Advent International, the global private equity firm, and the Kreke family acquired the listed German perfume retailer Douglas Holding in October
Chanel acquired UK-based cashmere manufacturer Barrie Knitwear in October
Maus Frères, the Swiss retail group, acquired Lacoste in November
Private equity firm Apax, acquired US-based footwear company Cole Haan in November
ASOS, the UK-based online retailer, acquired the luxury resale online retailer Covetique in November
L'Oréal acquired US-based make-up brand Urban Decay in November
Fast Retailing, the Japanese listed apparel retailer, acquired US-based denim manufacturer JBrand in November
Luxottica Group acquired French eyewear maker Alain Mikli in November
Apollo, the US-based private equity firm, acquired British watches and jewellery stores operator Aurum Holdings in December
PPR acquired Hong Kong-based jeweller Qeelin in December
Only The Brave, an investment vehicle headed by Renzo Rosso, acquired Italian fashion house Marni in December
Important Notice
This newsletter is distributed from time to time to clients and contacts of Savigny Partners LLP ("Savigny") who are interested and professionally experienced in the luxury goods sector.  The views and opinions
expressed in this newsletter pertain to themes that are topical to the luxury goods sector as at the date of this newsletter, and are meant to stimulate open discussion between Savigny and its clients and contacts.  The information in this newsletter has been compiled from sources believed to be reliable but neither
Savigny, nor any of its partners, officers or employees makes any representations as to its completeness or accuracy.  This newsletter is not intended to help its addressees or readers make investment decisions, nor does it purport to make recommendations regarding potential investment decisions.  Savigny shall not be liable or responsible for any loss or damage caused by or arising from any reader's reliance on
information contained in this newsletter.  Please note that some or all of the brands, and the companies which own brands, mentioned in this newsletter may have been and may continue to be clients of Savigny or may have a professional relationship with Savigny.