11/07/2011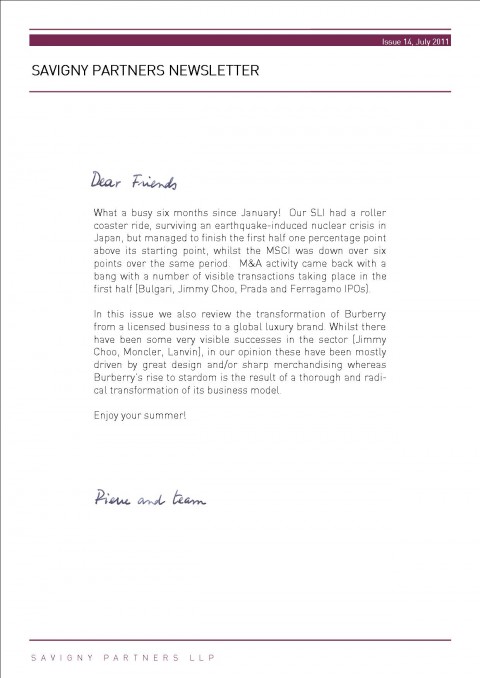 Burberry: from plough horse to thoroughbred?
14 years ago, Burberry was all but put out to pasture, suffering from a dusty image and its logo being pasted on cake tins, doilies and aprons.  Rose-Marie Bravo was put in the saddle and took Burberry for a ride down Chav lane to the gates of the luxury racecourse.  Despite doing a great job in fixing Burberry over her 9-year tenure, setting the foundations for her successor and consistently beating market expectations, the jury was still out as to whether Burberry could ever become a thoroughbred luxury brand.
The next phase of growth was spearheaded by Angela Ahrendts, who joined Burberry in 2006.  Since her arrival Burberry has galloped to the top of the luxury valuation leaderboard, more than doubling in turnover and market capitalisation to £1.5 billion and £5.8 billion respectively, twice the rate of growth of LVMH's turnover and market value over the same period.
The recent results announcement was very strong with revenue growth of 27% and operating profit increasing 37%.  However, initial market reaction was muted by the company's warning that more investment was required in its flagships and that margin growth would suffer in the short term as a result.
In this article we will examine how far the brand has come, where the potential for growth lies and what pitfalls it may encounter along the way.
Brand architecture – Prorsum leads, London and Brit reap
A clearly defined brand architecture is the foundation on which a brand's business is built.  As is the case with houses, the foundations of a brand are sometimes added to over the years in order to adapt to new markets or demands.  The end result is a mixed bag of brands and sub-brands that have no common thread and which, by trying to appeal to all, end up appealing to no-one.  This was the case with Burberry 14 years ago.  The cleaning up task was gargantuan, consisting of termination of licenses (32 product licenses in 1998 to 3 product licenses in 2011), closure of wholesale accounts, re-branding/positioning of retail outlets, and the phasing out of inconsistent (albeit profitable) sub-brands often in the company's most strategic markets such as Japan and Spain.
Burberry now has three main sub-brands:  Prorsum, London and Brit (which includes Burberry Sport).  Prorsum took a good decade to earn its stripes: Anna Wintour attended the Prorsum fashion show for the first time in 2009, when the show relocated to London from Milan.  London and Brit are reaping the benefits of this investment and have been the main engines of sales and profit growth.  The potential for Brit to outgrow London in size is there to be seized.  One only has to look at Armani Jeans to see how far this label can potentially go.
Communication – engaging with today's customer
Burberry rightly believes that, outside its stores, the best way to reach its customers is through digital media.  The company's digital strategy covers more than the main bases: with 5 million fans, it is the most liked luxury brand on Facebook, it has had 4 million channel views on Youtube last year, its social networking site "artofthetrench" is engaging and it has built a presence on a number of international and local social networking sites such as Twitter, Sina Weibo, Kaixin001, Douban and YouKu.  The company has also invested a lot into its website, which is live in 6 languages and transactional in 45 countries.  Off to a shaky start (slow and difficult to navigate), the website is improving and has great imagery.
The group's new store formats are also filled with digital features, such as digital walls/screens and Ipads for sales staff providing access to the full collection.  This all serves to make the brand a lot more relevant to today and tomorrow's luxury consumer.
Product mix – trapped in an outerwear straightjacket?
Burberry's outerwear image has proved a solid foundation, but the brand is not finding it easy to establish itself as a fully-fledged ready-to-wear brand.  Outerwear still accounts for more than half of the mainline apparel sales and is over-represented in womenswear.  We believe there is immediate potential for growth in menswear, which has only recently been brought fully in-house and in sportswear, both categories allowing for an easier transition from outerwear.  The more "fashion" offering, led by Prorsum credibility, will find it harder to grow but will undoubtedly find its customer base over time, particularly in the very promising emerging markets.
Burberry has made some solid gains in the non-apparel category (mainly in leather goods), which has grown at an average annual rate of almost 20% since 2001 and now accounts for 44% of wholesale and retail revenues.  The company is now looking to focus on small leather goods and shoes for further growth.  Other areas the company is looking to develop include childrenswear, colour cosmetics and home accessories.  There will be customers indeed for such products due to the strength of the brand, but the obvious categories have already been tackled and the company is now venturing further outside its comfort zone.
Distribution – reinventing itself as a retailer
Burberry's retail operations have been the key driver of the company's phenomenal growth over the last decade.  In 2001 the company had 54 Directly Operated Stores ("DOS"), consisting of 1 flagship, 30 mainline stores, 6 concessions and 17 outlet stores.  In 2011 that number has risen to a staggering 417 DOS, consisting of 174 mainline stores (including flagships), 199 concessions and 44 outlets.  This outstanding transformation was achieved partly through the conversion of franchise/wholesale operations to direct retail, notably in Spain, Korea, Taiwan and most recently China, as well as through investment in new retail locations, mainly in the USA and in European fashion destinations.  Own retail is now the company's principal distribution channel, in line with other leading luxury brands.
In addition to growing its retail operations, Burberry has become a better retailer: sales densities have improved from a paltry £597/sq.ft. in 2001 to close to £1,000 in 2011.  This has been driven by improvements in product mix/merchandising and in replenishment.  Nevertheless this is still a relatively modest performance for a luxury retailer; the company admits that work needs to be done to improve the retail experience and has announced a major flagship refurbishment programme for the current financial year.
Geographic reach – getting the balance right
Burberry has evolved from being a predominantly Japanese and Spanish business with operations in the UK to a truly global brand with a balanced geographic portfolio.  One of its key strategic initiatives has been to invest in under-penetrated markets, which included developed markets such as the USA and emerging markets such as China, India and the Middle East.  The company's store presence in China (50 stores as at July 2010) now matches its luxury peers and it plans to double its presence in this key market over the next 10 years.  The USA still represents a great opportunity for Burberry as does the Middle East and India, where the brand still has an embryonic presence.
Operations – an engine room that is best-in-class
Burberry has invested considerable amounts of money and time in overhauling its operations, supply chain and IT systems.  Measures ranged from consolidating its headquarters into one user-friendly building in
London, bringing all the corporate teams under the same roof for the first time; streamlining its numerous IT networks to a single global network, rolling out SAP worldwide (China still to come), and consolidating its suppliers and logistics centres.  The impact of this investment can be felt in all business areas: live sales data from the stores allows the company to react quickly by replenishing stock that sells well; housing the merchandising and design teams under the same roof allows for a more collaborative process between the two functions; streamlined supply chain allows both for cost savings and faster time to market.  As a result, Burberry is second to none in modern retail practices, with the introduction of flash collections and a synchronised monthly flow of new products and floorsets across its store portfolio and website.
Value creation from transformation
Burberry's transformation from a licensed brand to a vertically integrated luxury goods company did not come cheap.  A lot of investment was required: in overheads, to create the right infrastructure, and in capital expenditure to either gain control of retail assets, licenses (although most licenses were allowed to lapse rather than were bought out) or roll out DOS.  This is not unlike coming off drugs: licensing income is often ultimately bad for a luxury brand but weaning off it is both difficult and painful, as one has to shut off a steady stream of effortless income.  According to publicly available information, we have identified nearly £830 million spent by Burberry to turn its business around in the period 2001-2011, excluding a goodwill write-off of £116 million in 2009 for the closure of the Spanish business (the total amount is probably closer to £1 billion, taking into account unidentified overhead costs).  This has proved to be a worthwhile investment: over this period Burberry's revenue has increased by £1 billion, its operating profit has more than quadrupled and its market capitalisation has increased by £4.7 billion.  Unlike other celebrated transformation stories, such as Gucci, this was done under the scrutiny of public ownership, was managed almost entirely out of the company's annual cash flow and, with the exception of 2009, whilst still growing profits.
Is the current valuation justified?
Burberry's management team deserve praise for having got the brand so far.  Operations, brand architecture and communication are best-in-class.  Major improvements have been made in the product mix, and the company now has a balanced geographic and retail/wholesale portfolio.  The company is undoubtedly a luxury goods business.  At 16.5x EBITDA, its current rating is only slightly above the industry average of 14.9x but significantly above LVMH's EV/EBITDA multiple of 12.6x.  Undoubtedly Burberry's growth has well outpaced that of the sector as a whole over the last decade, as the company was getting back licenses and developing retail.  This took considerable skill, effort and investment, but in our opinion the low hanging fruit have already been picked. Today there is less justification to Burberry trading at such a premium to industry benchmark LVMH (which is currently firing on all cylinders), unless one factors in a takeover premium.  As the recent Bulgari acquisition shows, large luxury assets are sufficiently rare to justify paying over the odds…
Sector Review
The SLI comes out stronger despite a good rattling
The Savigny Luxury Index gained 6.2% since the beginning of the year, in large part attributable to the addition of Prada to our index.  Excluding the impact of Prada's IPO on the SLI, our index gained a modest 1.3%; however this was against a backdrop of a decline of 6.2% in the MSCI global index.
Savigny Luxury Index performance January 2011 to date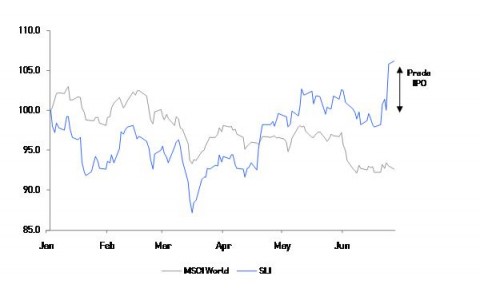 Investors get the shakes
The SLI took a beating in the first three months of the year.  It was driven down initially by profit-taking in January, dropping over 8% in the first half of the month.  This was offset by good news filtering through of strong Christmas trading and good overall performance for 2010 as whole, before easing again in the second half of February due to concerns over the resilience of China as the sector's growth engine.  The earthquake in Japan on 11 March caused a knee jerk reaction, with the SLI tumbling nearly 9% in three days, resulting in a net decrease of almost 13% since the beginning of the year, nearly double the fall of the MSCI.
Yet everyone seems to be shopping again
It soon climbed back up at pace, with the second half of March, April and then May recording strong increases, the SLI overtaking the MSCI during the second half of April, spurred on by double-digit sales growth across the board: China powering on, continued recovery in Europe and the USA and even the Japanese customer coming back to luxury shops.
This very strong recovery (+18% from its trough in mid-March to its peak in early June) was also accompanied by a robust revival of M&A activity in the sector: Bulgari, Moncler, Jimmy Choo, Ballantyne, Kurt Geiger, Le Tanneur, Jean-Paul Gaultier, Belstaff, Robert Clergerie, Nude Brands, Gianfranco Ferré, Kooba and Chantal Thomass were all snapped up in the first half of this year.
 Prada pulls it off, others pull out
The timing of Prada's fifth IPO attempt in June was yet again marred by more difficult market conditions both globally and in Asia, driven mainly by concerns over higher interest rates in China.  A record $58 billion, or thirty-six IPOs were said to be withdrawn in the first six months of 2011, and the Hang Seng Index was increasingly volatile during the month of June.  However the brand's attractiveness provided a strong pull and Prada was able to launch, eventually pricing its IPO at the bottom of the pre-valuation range at 17.6x EBITDA, a healthy premium to the SLI average.  The visionary luxury brand now represents 5% of the SLI with a market capitalisation of close to Eur10 billion.
Ferragamo also made it to market, pricing its IPO at Eur9 per share; this valued the company at Eur1.8 billion.  The stock jumped almost 8% on its first day of trading.
Sector Valuation
Source: Reuters
(1) Share prices as at 30 June 2011
(2) Sales growth: year-on-year change using latest annuals and consensus estimates for current year
(3) P/E multiples: historical based on either Dec. 10 or Mar. 11 EPS; current based on Dec. 11 or Mar. 12 EPS depending on company year-end
(4) The SLI average EBITDA multiple is calculated on a weighted average basis taking into account each component company's market capitalisation
(5) Year-on-year price growth reported in local currency whereas the SLI is expressed in Euro
Important Notice
This newsletter is distributed from time to time to clients and contacts of Savigny Partners LLP ("Savigny") who are interested and professionally experienced in the luxury goods sector.  The views and opinions expressed in this newsletter pertain to themes that are topical to the luxury goods sector as at the date of this newsletter, and are meant to stimulate open discussion between Savigny and its clients and contacts.  The information in this newsletter has been compiled from sources believed to be reliable but neither Savigny, nor any of its partners, officers or employees makes any representations as to its completeness or accuracy.  This newsletter is not intended to help its addressees or readers make investment decisions, nor does it purport to make recommendations regarding potential investment decisions.  Savigny shall not be liable or responsible for any loss or damage caused by or arising from any reader's reliance on information contained in this newsletter.  Please note that some or all of the brands, and the companies which own brands, mentioned in this newsletter may have been and may continue to be clients of Savigny or may have a professional relationship with Savigny.