Market Pulse / North Korean Worries Impact Luxury Sentiment
Tensions over North Korea during August have offset positive corporate news in the luxury sector, all the more given the importance of neighbouring countries to the industry.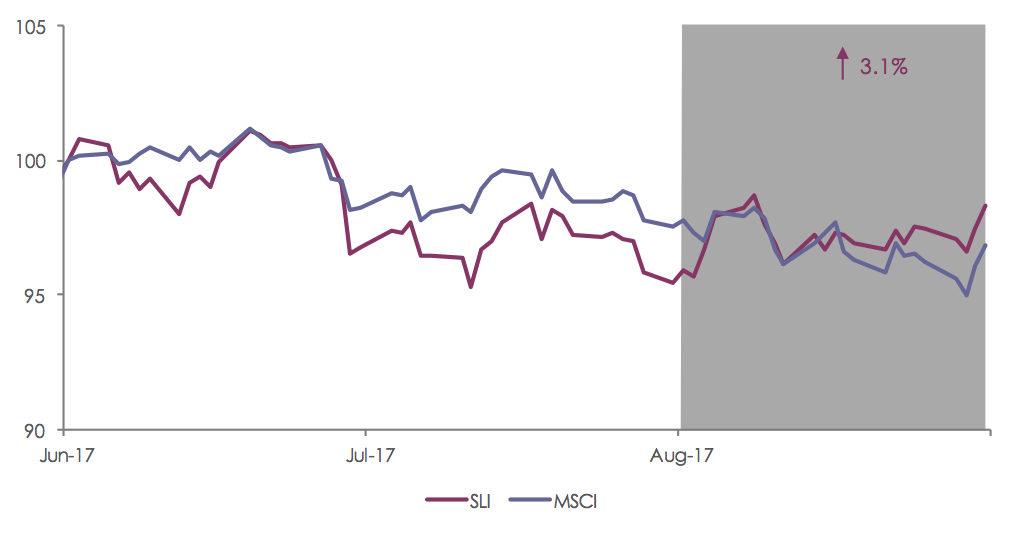 The Savigny Luxury Index ("SLI") gained 3.1 percent this month, relative to a 0.7 percent drop for the MSCI. Whilst corporate news flow was largely positive, its impact on the SLI was overshadowed by the waxing and waning of tensions between North Korea and the USA over the former's nuclear armament. North Korea's close neighbours China, Japan and South Korea account for nearly 50% of the luxury market, so any tensions in that region are likely to have a significant impact on the SLI.
Big news
US luxury players turning their backs on the beleaguered US department store sector has been a consistent theme in this month's string of results announcements. Michael Kors, Coach and Ralph Lauren all took a hit on sales, with Coach falling short of consensus full-year estimates, as they continued re-focusing their distribution to own/full-price stores. Profits at all three companies rose, despite gross margins at Coach softening with bargain hunters still flocking to its outlet stores. Estée Lauder also announced an improvement in full-year results, as growth in its international activities outstripped the fall in the cosmetics group's US department store business. Sales and profits came in ahead of expectations, driven by strong performance at Mac and Tom Ford, and the contribution of Becca and Too Faced. Finally, Tiffany also performed well in its second quarter, with sales being driven by growth in its high-end jewellery segment and in Japan.
Jean Claude Biver, head of LVMH's watchmaking activities, announced that he expected double digit growth in the division for the second half of 2017. This is on the back of a 13 percent growth in sales for the first half. Whilst LVMH is the only luxury group (successfully) chasing the smartwatch segment through its Tag Heuer brand, Biver does not expect smartwatches to impact the higher end segment.
M&A activity continued to gather pace despite the summer recess, in large part reflecting some sector consolidation. The leather accessories and shoes category saw France-based Tolomei Participations acquiring 57 percent of Le Tanneur in a recapitalisation exercise, taking advantage of the retrenchment of Qatar Luxury Group, the brand's current shareholder; Canadian shoe group Aldo acquired the footwear and accessories business of US-based Camuto Group, with the latter retaining its contemporary fashion business; and a private equity consortium led by South Korea-based SK Securities acquired shoe brand Elcanto from E-Land, which is rumoured to be considering other asset sales. In the watch and jewellery segment, a consortium of Hong Kong-based private investors bought a majority stake in affordable luxury watch retailer Tic Tac International, valuing the company at close to US$100 million; Pandora acquired Spanish jewellery retailer City Time for a reported €110 million; and UK-based Aurum Holdings acquired US luxury watch and jewellery retailer Mayor's Jewellers for US$100 million. However the palm of the most noteworthy transaction went to the acquisition of highly coveted cycling clothing and accessories brand Rapha by Walmart heirs Steuart and Tom Walton at a valuation of roughly £200 million, or almost 3x sales.
Going up
Ralph Lauren and Michael Kors came top of the leader board, with monthly share price increases of 16 percent, attributable to a promising recovery story for both beleaguered stocks.
Estée Lauder rose 8 percent this month on the back of strong annual results and swiftly denied bid rumours.
Going down
Safilo lost 16 percent of its value in August as it swung into losses in the first half, owing to late deliveries and the loss of its Gucci license.
Coach's shares fell 12 percent as investors are looking for the company to cut deeper into its discounting practices: Coach may have well made an effective retreat from the US department store segment but the brand is still dependent on discounting in its own stores and its outlets. Furthermore, recently acquired Kate Spade is heavily reliant on its own discount outlets for sales.
What to watch
Paris is back on the map for luxury shoppers: tourism grew by 10 percent in the first six months of 2017, the fastest rate in a decade. The impact of the recent attempts, with vehicles being driven into crowds in the UK and Spain, have yet to be felt though. Is there more to come? This new form of makeshift terrorism is a lot harder to predict or prevent than organised attempts using more conventional weaponry.
 Sector valuation