Market Pulse / Luxury Blossoms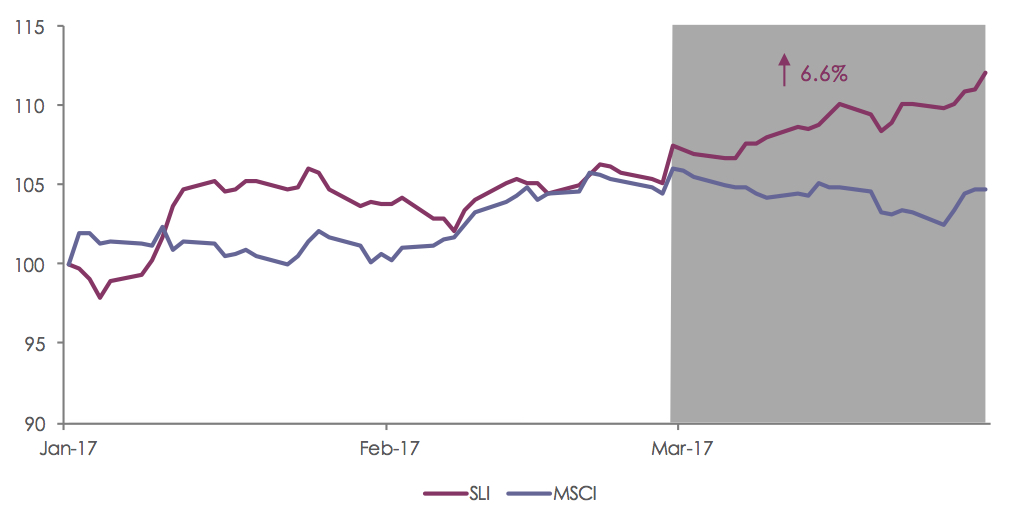 The Savigny Luxury index ("SLI") rose to a very respectable 6.6 percent in March, whilst the MSCI World Index ("MSCI") flat-lined.  A string of good results announcements, as well as signs of resumption of growth in luxury markets around the world including all-important tourist flows, put a spring in the step of the SLI.
Big news
Hermès announced record-breaking profits for 2016, adding to the series of positive results announcements over the last couple of months.  Moncler, Cucinelli and Tiffany also posted strong numbers, notably lifted by sales in China for all three companies.  Tourists have been heading back to Europe: tax free sales grew by 21 percent in January, the second consecutive month of growth after a year of decline.  Likewise, the Middle Eastern luxury market has seen a rebound, thanks to increased oil prices but also increased tourist flows from India and Africa.  Even some of the bigger players in the watch sector are beginning, albeit very cautiously, to feel optimistic for 2017.
LVMH is diving head first into the world of multi-brand e-commerce and will launch a new site in the next few weeks.  It will be offering LVMH brands as well as a selection of third-party brands. The group already owns Sephora, which has a very strong digital presence.  Industry observers expect the internet to account for 20 percent of luxury sales within a decade, up from about 7 percent today.
March was a busy month in the world of luxury mergers and acquisitions, notably amongst the big groups:  De Beers bought out LVMH's 50 percent stake in De Beers Diamond Jewellers to gain full control of the jewellery retail chain; Richemont took a 30 percent stake in Kering Eyewear as part of a strategic arrangement between the French luxury group's eyewear platform and Cartier to develop and expand the jewellery brand's eyewear range; and LVMH acquired a majority stake in Maison Francis Kurkdijan, a niche perfumer.  There were three other deals in watches and jewellery: Swiss watch brand and retailer Bucherer bought UK-based Watch Gallery; Korean private equity group MBK partners bought Japanese pearl company Tasaki & Co; and China-based Shenzen Ideal Jewellery Co announced a share issue to acquire Shandong Sjono Jewellery Co in a 1 billion yuan deal.  Finally, Douglas Holding bought Spanish perfumery chain Iberica de Drogueria y Perfumeria for 70 million euros.
Going up
Brunello Cucinelli posted an impressive 15 percent share price gain, fuelled by yet another strong set of results; the company also announced that 2017 was going to be a good year.
Moncler was not far behind with a share price gain of 14 percent on the month; also announcing strong numbers with sales growing 18 percent in 2016.
Tod's share price continued to recover as better prospects for 2017 started to outweigh the company's mediocre performance last year. The share, which has been on the up since late 2016, gained 10 percent this month.
Going down
Burberry and Mulberry felt the bite of Brexit, burdened by the prospect of higher input prices. These two stocks were the only ones in negative territory in March, albeit marginally.
What to watch
Whilst the fundamentals are improving, valuations across the board of the SLI are starting to look high.  Brokers are getting cautious with their recommendations and are talking of a mini market correction.  There is still some risk out there, notably in terms of potential protectionist policies in the USA as well as between the EU and Britain: this may dampen an otherwise blossoming Spring for our SLI.
Sector valuation