October 2014
Confidence Returns?
The Savigny Luxury Index ("SLI") turned around in mid October as confidence in the US economy returned and the US Federal Reserve ended its quantitative easing.  It gained 2.4 percent over the month, outperforming the MSCI Word Index ("MSCI") by almost one percentage point.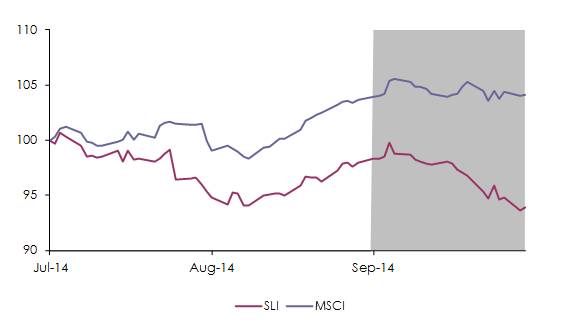 Big news
The return of the American consumer is good news for the sector as the US is still its largest market.  LVMH's third quarter results tend to confirm this trend.  The group posted improved sales growth as stronger trading in the US and Europe made up for weakness in Asia.  According to a recent Bain report, growth in global luxury goods sales will stabilise at 2014 levels, or around 5 percent at constant exchange rates, with the whole of America and Japan being the biggest drivers.  Americans have rediscovered interest in luxury products, especially in younger generations with increased wealth amongst second and third generations of Asian Americans and Latin Americans.
Pro-democracy protests in Hong Kong have disrupted business and hit share prices of luxury goods companies, ruining what is normally one of the busiest shopping weeks of the year.  China's "Golden Week" holiday, which ran until Oct. 7th, is traditionally as important to luxury retailers in the region as Christmas or New Year are in Western markets.  Many Chinese tourists were unaware of the scale of the crisis because of a media blackout on the mainland and a large proportion had also bought non refundable tickets, so the influx of tourists was actually high, but they were in the main unable to spend because of the unres
Company results have reflected the uncertain trading conditions in Hong Kong as well as an economic slowdown in China.  Burberry warned that conditions in some of its markets including China had worsened in its second quarter, overshadowing a 14 percent increase in the group's first half sales.  Kering reported that Gucci was still lagging behind more discrete brands Saint Laurent and Bottega Veneta but that the brand was beginning to turn around.
Jimmy Choo was listed on the London Stock Exchange on 17th October, despite a string of high-profile cancellations, including leading cosmetics producer Intercos.  Its shares were priced at the bottom of the 140-180p range, valuing the company at around GBP550 million.  This represents a sales multiple of 1.85x and an EBITDA multiple of 11.2x, slightly lower than the SLI average.
M&A activity has been strong in the beauty sector: Chanel sold French mass make-up brand Bourjois to Coty, Estée Lauder acquired luxury skincare brand Rodin Olio Lusso and high-end niche fragrance brand Le Labo.  Prada has acquired historic Tannerie Mégisserie Hervy, further ramping up the race for luxury firms to integrate upstream in quality leathers.
Going up
The three biggest risers, apart from Michael Kors, were the three largest luxury goods groups, namely LVMH (up 5.2 percent), Richemont (up 3.3 percent) and Hermès (up 4.4 percent).
Going down
Salvatore Ferragamo's share price took a hit, falling 13.4 percent on the back of analyst downgrades as a result of the prolonged disruptions in Hong Kong, a more uncertain macro-economic environment and lower travel flows especially from Russia.
Tod's share price lost 6.4 percent after analyst cut expectations following a business update given by its CFO.
Mulberry's share price lost 6.3 percent after it issued its third warning this year as weak tourist spending added to the disruption from its strategy shift back to selling lower-priced bags.
What to watch
Crossroads or tipping point?  The markets seem to stand behind the largest luxury groups despite the perfect storm situation: unrest in Hong Kong, the Ukraine crisis, a general slowdown in luxury spending in China, Middle Eastern spending habits possibly being affected by deadly conflicts in Iraq and Syria and, finally, the spread of Ebola prompting fears of travel restrictions impacting tourist spending.  Have we hit bottom or is there worse to come?
Sector Valuation