November
Luxury Sector Terrorised
The Savigny Luxury index ("SLI") fell victim to current events, dropping almost 3 percent, whilst the MSCI World Index ("MSCI") rose by nearly 4 percent.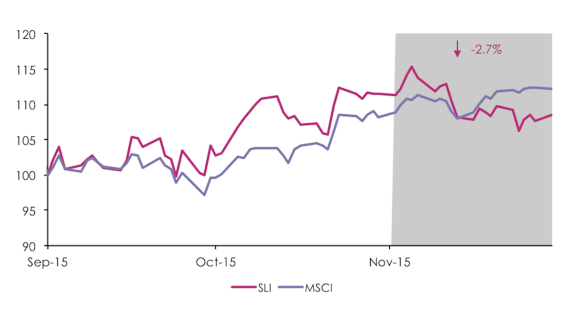 The Savigny Luxury index ("SLI") fell victim to current events, dropping almost 3 percent, whilst the MSCI World Index ("MSCI") rose by nearly 4 percent. The repercussions of the terror attacks in Paris weighed heavily on a sector that already had a cautious outlook. This is the first time in almost 18 months that the indices have gone in opposite directions and in a long while that the gap between the two has been so wide.
Big news
• The world did not feel safe this month, with the downing of a Russian passenger jet over the Sinai and the multiple attacks in Paris on Friday 13th. This created a double whammy of growing political uncertainty, reflected in the divergent responses of many countries, and economic uncertainty, with concerns over tourist flows specifically to Paris, a key tourist destination for luxury shoppers.
• Whilst some results were good (Richemont, Hermès, Ralph Lauren and Michael Kors), and some bad (Ferragamo, Tod's and Tiffany), the outlook was most decidedly ugly. The key message was one of volatility and uncertainty for the rest of the year. Macy's poor results, a bellwether of American retail, sent chills down many investors' spines, whilst Richemont's caution over the second half of its financial year dragged the big groups into negative territory. Disappointing statistics from Black Friday only added further insult to injury.
• Corporate activity has nevertheless picked up this month. LVMH bought a minority stake in Franco-Italian jeweller Repossi; Hermès bought its long-time hide supplier Tanneries du Puy; Tod's bought Roger Vivier (whose license with the group was due to expire in 2016) for Eur415 million; Chanel bought Italian shoe-maker Calzaturificio Gensi Group; a fund backed by L'Occitane acquired 40% of macaroon master Pierre Hermé; Only The Brave, the holding controlled by Renzo Rosso, acquired the remaining 40% of Marni to give it full ownership; and Swiss swimwear group Lahco bought luxury hosiery company Fogal.
Going up
• Ralph Lauren's share price rallied, ending the month 12 percent up, after better-than expected second quarter results, buoyed by strong performance in Europe and online as well as strong margins in its wholesale business.
• Make-up sales boosted Estée Lauder's first quarter results and contributed to a positive outlook for the group, resulting in its share price increasing by over 5 percent.
• Michael Kors also reported better-than expected second quarter results, with a 7 percent revenue growth boosted by strong performance in the Americas. The share ended the month up 11 percent, the first double-digit increase in many months.
Going down
• Prada's hangover from the retail rollout binge it had embarked on in 2011 resumed this month. The stock lost almost 14 percent of its value.
• Richemont's glum outlook for the second half, as well as growing comments that it might have over-valued Net-à-Porter, caused the share price to tumble 9 percent on the month.
• Ferragamo's shares were temporarily suspended after reporting soft third-quarter results as unsuccessful currency hedging compounded weakness in China and the United States. The company announced it would be a challenge to meet market expectations for 2015. The stock fell 9 percent in November.
What to watch
Christmas trading is really all that matters at this juncture. The optimists within us are hoping that post-attack comfort shopping over the next two months will sustain the luxury industry in a period so crucial to the sector's growth and profitability.
Sector valuation