December 2014
In with the New
Both the Savigny Luxury Index ("SLI") and the MSCI World Index ("MSCI") suffered from profit-taking in the first half of December.  The more general MSCI recovered lost ground in the second half to finish up more than one percent, a feat not quite achieved by the SLI which ended 1.2 percent down.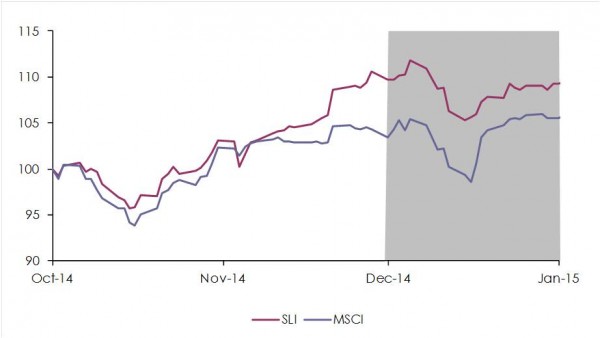 Big news
Christmas trading has been positive for the luxury goods industry, with jewellery being a strong category.  In the US, overall holiday sales are looking to be matching forecasts relatively closely, and spending will continue after the holidays when consumers hit the stores to spend their gift cards.
Kering has parted with the couple at the head of its flagship brand.  Gucci CEO Patrizio di Marco and Creative Director Frida Giannini are to be replaced.  Marco Bizzarri, who was already leading all other luxury and fashion brands within Kering, will take over as CEO in January.  Giannini's replacement is to be appointed at a later date, meaning that new creative blood will only kick in for the Spring and Summer collections of 2016.
Swiss watch exports have fallen in November by almost 5 percent.  All segments have been hit.  US sales continue to grow but Hong Kong and China, the other two most important markets for Swiss watch exports, have fallen.  Chinese tourists represent about 90 percent of Hong Kong sales but now the more wealthy Chinese prefer to go to South Korea or Japan, where watches are 30 to 40 percent cheaper.
Corporate activity has been subdued.  L Capital, the private equity firm sponsored by LVMH, acquired the Australian swimming brand Seafolly.  Estée Lauder pushed through yet another small acquisition by purchasing GLAMGLOW, the Hollywood skin care brand.
Going up
Hermès shares climbed 9.5 percent as LVMH distributed most of its holding in the group to its shareholders under a deal agreed in September, which increased Hermès' float from 7 to 22 percent.
Luxottica's share price leaped almost 6 percent fuelled by the strength of the dollar versus the euro, the US representing more than half of global turnover.  The eyewear colossus also renewed its licence with US brand Tory Burch.
Going down
Prada's shares slumped by 12 percent.  After several quarters of slowing growth, Prada's worst performance to date came in the third quarter when net income almost halved compared with a year earlier.  Prada has been facing difficulties in Asia, its biggest regional market, as slowing economic growth and China's anti corruption campaign cooled consumer demand.
What to watch
After plaguing the luxury sector, the currency environment should now benefit most players as the dollar continues its rise against the euro.
Sector Valuation