Market Pulse / US-Led Uncertainty for Luxury
Positive news and prospects for the sector have been overshadowed by softness in the US market, a global cyber-attack and further probes into Trump's ties with Russia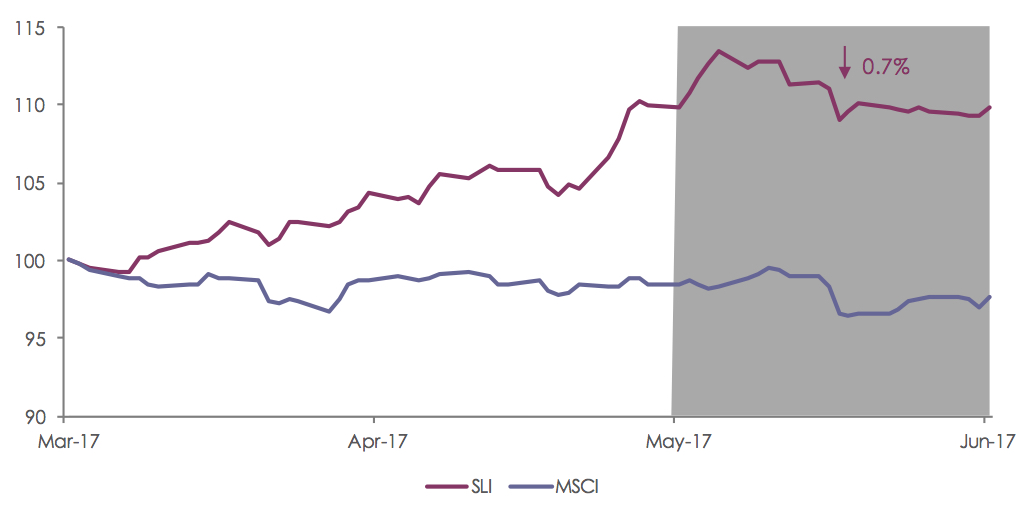 The markets have been relatively oblivious to the latest string of positive results in the sector, our Savigny Luxury Index losing 0.7% in May against a loss of 1.5% for the MSCI.  In addition to cybersecurity concerns coming to the fore, with a global cyber-attack taking the world by surprise, the US continues to crystallise uncertainty with persisting softness in traditional retail channels as well as lingering issues over Trump's ties with Russia.
Big news
Bain doubled its growth estimates for the luxury goods market in 2017 from 1-2 percent to 3-4 percent, citing recovery in consumption in both Europe and China offsetting weakness in the USA and South-East Asia.  Bain forecasts Europe and China to grow in high single digits this year.  The latest string of results echoed this: Moncler's first quarter sales grew by 16 percent, driven by strength in Europe, whilst Burberry and Tod's suffered from weak demand in the USA.  Our US luxury universe, namely Michael Kors, Tiffany, Ralph Lauren and Coach, unilaterally posted sales declines.  Estée Lauder was the only exception, with sales growth underscored by acquisitions.
Corporate activity this month was dominated by the Coach deal to acquire Kate Spade for $2.4 billion.  Other deals included the acquisition of luxury yacht maker Privilege Marine by German private equity firm Aurelius; Italian men's tailor brand Boglioli by Spanish private equity firm PH Asset Management; Douglas strengthened its foothold in Italy through the purchase of two perfume chains (Limoni and La Gardenia); US private investors Rob Gough acquired streetwear brand DOPE and Charles Cohen acquired shoe brand Harrys of London, whilst US private equity firm KPS Capital acquired Taylor Made Golf Company.
Going up
Coach climbed over 17 percent this month on the back of its acquisition of Kate Spade and, most importantly, of a reduction of discounting activity which effectively boosted its quarterly profits. Investors are starting to see signs that the leather goods company's turnaround strategy is working, in spite of continued sales softness.
Burberry's share price gained 12 percent on the month as investors rallied behind the new management team and benefitted from a currency windfall which enabled the company to increase its yearly dividend by 5 percent.
Going down
Ralph Lauren took another dive this month, losing 16 percent of its value, as the company reported a ninth consecutive quarterly contraction in sales. The company appointed a new CEO, Patrice Louvet, formerly at P&G; his predecessor had lasted just over a year.
Ferragamo's share price dropped by over 15 percent in May as the company cautioned the market over its short-term outlook: 2017 will be a year of transition for the company.
Tod's share price tumbled after its disappointing first quarter results and confirmation by the company that 2017 will be a difficult year with flattish sales growth. The stock ended the month 14 percent down.
What to watch
Richemont has taken significant steps to downsize production in light of the recent contraction of the watch industry.  In other sectors, companies such as Michael Kors, Ralph Lauren and Coach have or are still suffering from over-exposure.  Coach has taken significant steps to reduce its presence in US department stores and has clamped down on discounting: sales of the group have gone down but profits have gone up.  Michael Kors has announced the closure of over 100 stores in its portfolio.  Perhaps it's time for smarter growth and to think of profitability as a long-term concept, not a quarterly pursuit.  If any sector can, luxury can! 
Sector valuation