Market Pulse / Chinese Tourists Told to Shut Their Wallets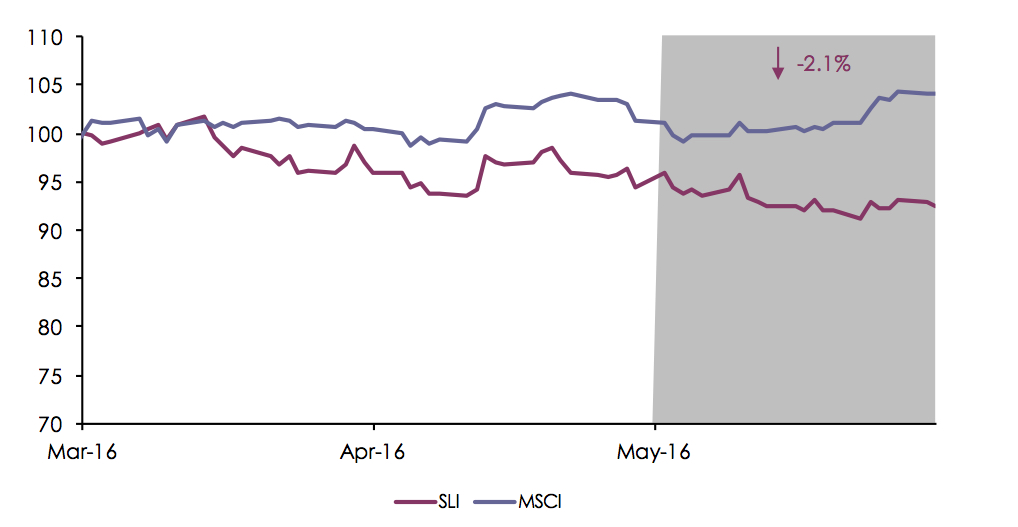 The Savigny Luxury index ("SLI") lost ground for the third consecutive month, dropping 2 percent, whilst the MSCI World Index ("MSCI") moved in the opposite direction, gaining almost 3 percent.  More of the same bad news was compounded by a crackdown by the Chinese government on personal imports of luxury goods.
Big news
The arrivals halls of Shanghai and Beijing airports were awash with abandoned luxury bounty as the Chinese government launched a stealth attack on personal imports of luxury goods.  Import taxes on luxury watches doubled to 60 percent, whilst tariffs on bags and clothes have gone from 20 percent to 30 percent. Chinese tourist spending fell off a cliff for the second consecutive month in April, contributing to the sector's continued downward rating.
Bain issued a chilling report on the luxury sector's prospects for 2016, pinning growth at around 2 percent.  Surprisingly, Japan came out as a frontrunner for 2016, with growth forecast at around 5 percent.  A string of paltry results announcements by Tiffany, Giorgio Armani, Burberry, Ralph Lauren and Tod's to name a few, echoed this sentiment and were riddled with warnings for the rest of the year.  The only companies bucking the trend were Brunello Cucinelli and Moncler, both posting double digit growth and prospects.  Overall this contrasts quite radically with the analysts' consensus estimates for current year growth, reported in our valuation table below and which stands at an average of 9% for the groups forming our SLI.  The market may have yet to digest more downwards adjustment.
Corporate turnstiles continued to swing with McQueen's long-time CEO Jonathan Akeroyd leaving to head up Versace; he was replaced by Emmanuel Gintzburger, formerly at Saint Laurent.  Michele Norsa left Ferragamo after ten years as CEO to be replaced by Eraldo Poletto, formerly CEO of Furla. Having completed the integration of Loro Piana at LVMH, Matthieu Brisset is to hand over the reins to Fabio d'Angelantonio, formerly at Luxottica.  Tod's creative director Alessandra Facchinetti left the company after three years of service.  Finally, Prada is on the hunt for senior management executives in order to balance out its family-heavy, concentrated leadership.
Corporate activity resumed this month, with French heritage brand Carven being sold to Hong Kong luxury goods distributor Bluebell Group, luxury watch brand Frederique Constant being sold to Citizen Watch Group, French interior design and furniture brand Christian Liaigre being acquired by Singapore-based investment company Symphony International Holdings.  Richemont was also rumoured to be in exclusive talks to buy Italian jeweller Buccellati.  Finally, Furla's shareholders confirmed their intention to list the company in 2017 by announcing a strategic agreement with Tamburi Investment Partners.
Going up
Moncler and Brunello Cucinelli's share prices rose by 6 and 3 percent respectively as both companies announced double digit quarterly sales growth. Cucinelli also confirmed its expectations of double digit sales and profit growth for the year.
Hermès' share price posted gains approaching 5 percent in May, underpinned by the scarcity value of its higher priced leather goods, which drove sales growth in the last quarter.
Mulberry continued its upward re-rating as the company returned to its affordable luxury roots under the stewardship of Thierry Andretta. The stock gained 4 percent on the month.
Going down
Michael Kors share price was weighed down by lacklustre results announcements in the US affordable luxury segment. The stock lost almost a fifth of its value.
Tiffany's share price tumbled 13 percent this month as the company announced its worst quarterly sales drop since the financial crisis and forecast a mid-single digit percentage fall in its full-year profit.
Tod's lost 10 percent on the month following a drop in its first quarter sales, compounded by the departure of its creative director.
What to watch
The Swiss watch industry is in the doldrums, suffering from a contraction in sales and an out-of-date distribution model that compounds the pain as retailers try to return watches that don't sell.  It may be time for a shakeup, akin to what happened in the 1980's when quartz technology moved the sector's goal posts.  Technology yet again is a key driver – this time it will be about smart watch technology – though access routes to the end consumer will be the central issue.  Tag Heuer is leading in luxury smart watches and is one of the rare brands to be growing in double digits this year.  The company is planning to establish a presence in Silicon Valley to further cement its relationship with connective technology.  The Salon International de la Haute Horlogerie, the watch industry's equivalent to Couture week, will be opening its doors to the general public for the first time this year, as watch brands demand more direct contact with their end consumers.
Sector valuation